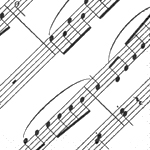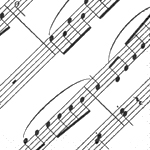 Pianist, composer and teacher of international quality by Bruno Breunlich
It is difficult to say anything about his artistry. One is unable to find words for something which is perfect and points of comparison are useless. I am not able to measure the quality of his art. On hearing him play one experiences a feeling of completeness: It is as it is and cannot be otherwise. The only possible comparison is to Franz Liszt and even von Sauer's outward appearance bore an unsuperficial similarity to Liszt. This comparison however is one which reaches beyond the stars and is no longer earthly".
The famous conductor, Felix von Weingarten once characterized von Sauer's singular appearance with the above quoted words. And in reality his way of playing the piano was extraordinary and incomparable. He did not just "play" the piano but on the contrary he "narrated" on the piano. He was sovereign, like a king and offered everything when he played. Even the greatest pianistic difficulties were managed with consummate ease as if they were the simplest things in the world. However, the pure manual element remained secondary to his huge conception and magnificent unity of the overall impression.
Even the smallest details were executed with a grace which cannot be imitated bringing every point to a lustrous effect. Nevertheless, every detail combined to create a uniformity which in manner touched on an unworldly perfection. He strode across every aspect of his art from the dreamlike unreality of his inimitable attack to a magical, today almost forgotten "non-legato" a fusion of legato and staccato in which the notes are completely differentiated from one another and yet bound, as sparkling and exhilarating as champagne, to the elemental forcefulness of the famous Sauer bass sound. Then once again quiet broken chords full of unlimited devotion and sweetness, or a row of ghostly, short incoherent sounding chords which made the listener tremble. He also knew how to create a shattering effect with pauses in the music which would break the everincreasing tension.
Never was Goethe's quotation more true "To see the difficult made easy gives the impression of the impossible" which through Sauer's playing was demonstrated ad oculos. There can be absolutely no doubt that Sauer's artistry almost surpassed the outmost borders of materialistic being and exceeded into the transcendental.
With his hands he was able to open an intellectual window for his receptive audience through which they were able to perceive a shaft of light and for a short moment enter the realm of music of the spheres. An unsurpassable spirituality and a complete dematerialisation were the most important characteristics of his unforgettable piano playing with which he charmed the world for more than 60 years. For 50 years these characteristics of Emil von Sauer's piano playing convinced music-lovers throughout Europe and in America on all his recital tours. As one of the last friends and admirers of the great artist von Sauer I remember his playing of the piano works of Beethoven, Liszt, Schumann and above all Chopin. Whoever heard him playing Chopin's Berceuse or one of the many Nocturnes will never forget how with the huge Nocturne in C-sharp minor op. 27 No. 1 after the stormy middle section and the repeat of the C-sharp theme how suddenly the C-sharp Major closing chord sounded like "light everlasting". Likewise, the famous G-flat Major Etude op. 25. No 9 where with the repeat of the theme he plays the bass chord an octave lower than written in the original. Similarly, when he played the tremendous C-minor Etude op. 25 Nr 12 no one could escape his magnificent performance. When he performed Liszt's A Major Concerto in the "Tempo del Andante" part the written broken chords sounded similar to angels' harps as previously described. When he played Mendelssohn's Fruhlingslied (Song of Spring) as an encore then the atmosphere in the Golden Hall (Vienna) was so emotionally charged that the applause and cheering knew no bounds.
Emil von Sauer was born on 8th October in Hamburg as the son of a merchant. He inherited his artistic blood from his mother's family. His grandfather Julius Gordon was a well-known and sought-after portrait painter whose daughter showed tremendous musical talent at an early age. Consequently, Sauer received his first piano lessons from his mother. Upon leaving school he went to the famous Moscow Conservatoire at the recommendation of Anton Rubinstein. The Principal of the Conservatoire was Nikolaus Rubinstein, the brother of Anton, who at the same time held a piano masterclass. Sauer remained in Moscow as a student of Rubinstein for 2 years and on his death returned home. Sauer's efforts to be accepted by concert promoters were a complete failure. Anyone of any influence was deaf to the unknown pianist, Sauer. Later in life Sauer described in his autobiography how he could have played with 20 fingers without jolting people out of their indifference towards him.
Meanwhile the family were poor and Sauer had no other alternative than to give piano lessons in order to provide for their daily needs. Friends of his mother lured him to London in autumn 1882. 1t was here that he met the most important patron of his life, Hercules Brabazon. Brabazon was a man of private means who shared a tremendous and fanatical passion for painting and music alike. It was Brabazon's habit to travel to the south during winter where he would revel in colour and his passion for painting manifested itself in dozens of watercolours. The almost 60 year old Brabazon immediately recognised the enormous talent of the then 20 year old pianist and made him the generous offer of not only accompanying him on his next journey but also financing what was practically his first recital tour. The journey took them to Spain and it was here that Sauer's career began. On the occasion of his 75th birthday Sauer commented on his meeting with Brabazon ln an interview: "Perhaps I would have remained a small piano teacher running from lesson to lesson if it wasn't for the fact that I found a patron who offered me the possibility of giving my first recital". In Rome, which was also touched on this journey, Sauer's name was already known by Princess Wlttgenstein who was living there and who was once the lover of Liszt. The Princess received him and was electrified by his playing. She immediately sent a telegram to Liszt, which in those days certainly was not commonplace and with this recommendation Sauer and Brabazon packed their cases ln a hurry and departed for Weimar to Liszt. Sauer remained a student of Liszt until the composer's death. However, during this period Sauer's name had already become well known allowing the development of an intensive recital career. Qn l5th January 1885 he achieved his first great success in Berlin, especially with the press who dedicated columns to him. After this concert which he gave with the Berlin Philharmonic in the presence of the Court, Sauer was a famous man, being one of the greatest planists in the world, and the most famous concert halls throughout the world opened their doors to him. On 7th December 1890 Sauer gave his first concert with the Vienna Philharmonic and became acquainted with the city for the first time. This city, as for many other musicians, would become his second home. From the beginning of the 1880's until his death, Sauer performed on the most famous concert platforms throughout the world. Wherever he played he celebrated unbelievable triumphs which sound like a fairy story for us today. Would it be possible to imagine today that a solo concert, on account of the public having been driven to a state of ecstasy and always demanding more encores could last until 2 a.m. in the morning? This was Sauer and especially in Slavic countries where the scale of enthusiasm reached enormous proportions again and again: Monarchs and heads of state showered him with titles and medals. As an example, for a long time he was the only German artist to be a Commander of the French Legion of Honour, Sultan Abdul Hamid bestowed membership of the Medjidie order upon him, the London Philharmonic Society presented him with the golden Beethoven medal, he was the bearer of rare Spanish orders, of the Franz Joseph order and many more. Many famous music institutions throughout the world bestowed honorary membership upon him including the Liszt Academy in Budapest, The Company of Friends of Music, Vienna and The Vienna Philharmonic. He knew the most famous personalities of more than half a century and had many persosonal friends amongst them.
Besides his virtuoso piano career his intensive career as a teacher must be mentioned. Over a long period he held a piano masterclass at the Vienna State Academy of Music and represented the most lmportant instrumental personality the State Academy ever had. Even today internatlonal names such as Elly Ney, Stephan Askenase, Lubka Kolessa, and, last but not least, Angelika Morales, who was to become his second wife, testify to his success as a pedagogue.
Just as astounding are Sauer's many substantial compositions. On 9th April 1942, during the Second World War, von Sauer played the Schumann Cocerto in the Golden Hall of the Vienna Musikverein as part of an anniversary concert celebrating 100 years of the Vienna Philharmonlc. It was the last time that an audience were able to hear his magical sound. After a short illness the great artist died in his Vienna home in the 4th district, Graf Starhemberg-Gasse4. He was almost 80 years old.
Finally, a fact which highlights Sauer's unique artistry. Throughout the last 30 years of his career he played with only 9 fingers. On account of a contraction of the tendon of the middle finger of the left hand the finger was forced in a permanent bent position and was unable to be stretched. Therefore the illness made this finger useless. The depth of such an adjustment for a pianist can really only be fully understood by an expert. It was necessary to rearrange the whole fingering for the left hand. Sauer achieved this without interruption to his recital work and what is even more astounding is the fact that nobody was aware or knew. Even his closest family members were only informed of the circumstances much later. This fact serves as an striking example how a true genius triumphs over all difficulties.
Apart from the artist one should not forget Sauer as a person because one aspect without the other in unthinkable. Sauer was a grand seigneur from head to foot and a classical example of a man of the world par excellence. A man full of charm, a conversationalist and refined in his dealings with people combined wlth a humbleness typical of true great artists.
At the piano his gestures and facial expressions were an unforgettable spectacle and when in his greatest moments an ecstatic smile came across his face he would cast a glance towards the audience. This look seemed to reach beyond the hall and into eternity, a glance from eyes like blue water similar to that of an old seaman. At such moments it was impossible to escape the magic of this fascinating personality.
Consequently, Emil von Sauer was the last authentic guardian and representative of the Liszt tradition, of the golden age of piano playing. Fate seems to force the giants of art and culture in all its forms into a few decades. Just as Greek sculpture reached its pinacle within a few decades at the time of Pericles which would not be surpassed over the next 2,500 years, likewise the golden age of piano playing lasted from the 1830s until the middle of this century with Franz Llszt at its beginning and Emil von Sauer at its end. As the last in a series of great universal piano virtuosi in the noblest meaning of the word and also a magnificent Chopin interpreter Sauer has taken many secrets of his regal art with him to the grave. The beautiful words which Grillparzer spoke at the side of Beethoven's grave are also valid for Emil von Sauer: "Whoever should follow will not continue but must begin because his predecessor only stopped where art ended".