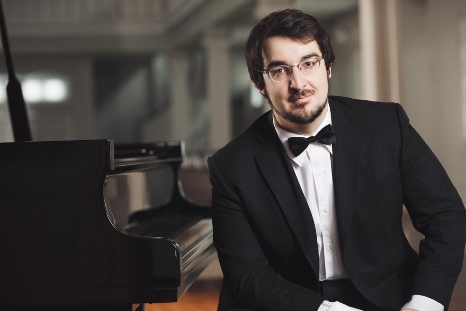 Concert I – Charles Richard-Hamelin

Saturday, Nov 10, 2018 at 7:30 PM

100 Years of Poland's Regained Independence! The Polish Consul invites ALL audience members for a very special reception after the concert. Come and drink a toast to Poland, and to Chopin!

Vancouver Playhouse( Click for directions )
Charles Richard-Hamelin's Web Site

"Richard-Hamelin never treated the composer as a vehicle for display, speed or bravura. What we saw instead was wonderfully-concentrated inward playing that aimed at the soul of the composer and exuded great intelligence and architectural strength…This turned out to be one of the best piano recitals we have seen in the past year or two."– Geoffrey Newman
Vancouver audiences will remember his stunning debut in our 2016-2017 season.
Ever since winning the silver medal at the 2015 International Chopin Competition in Warsaw, Richard-Hamelin has been going from strength to strength, delighting audiences in major musical centers with the polish of his playing as well as the depth and maturity of his interpretation. In 2016, he was given the honour to substitute for an ailing Maurizio Pollini in a recital at the Prague Spring Festival. Recent concert highlights include Prokofiev's 3rd piano concerto with the Montreal Symphony, Mozart's A major piano concerto (K. 488) with the Toronto Symphony, as well as solo and concerto appearances throughout Canada, Japan, Germany and Poland.
Richard-Hamelin's first two recordings on Analekta received widespread acclaim from such publications as Gramophone, BBC Music Magazine and La Presse. Current recording projects include his third solo album for Analekta, and the complete Beethoven violin sonatas with Andrew Wan.
We are delighted once again to present this distinguished Canadian pianist.

| | |
| --- | --- |
| SCHUMANN | Arabeske Op. 18 |
| | Fantaisie Op. 17 |
Intermission
| | |
| --- | --- |
| CHOPIN | Ballade No. 1 in G minor Op. 23 |
| | Ballade No. 2 in F major Op. 38 |
| | Ballade No. 3 in A-flat major Op. 47 |
| | Ballade No. 4 in F minor Op. 52 |
A reception for all will follow the concert
Supported by: