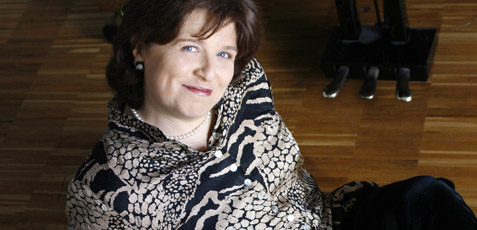 CONCERT 3 – Dina Yoffe
Friday, April 8, 2016 at 7:30 PM
Vancouver Playhouse
"Her playing flowed beautifully, and avoided even the slightest hint of sentimentality. Hers was a strongly felt authentic Chopin. Maestro Zubin Mehta collaborated marvellously as a perfect accompanist. " -B. Bar-Ami, Jerusalem Post
Dina Yoffe came to international recognition by winning top prizes in two international competitions: the Robert Schumann in Zwickau (1974) and the prestigious Fryderyk Chopin in Warsaw (1975). At that time the political climate in the Soviet Union did not allow for creating a career abroad so Dina Yoffe had to wait several years to launch her career. Today her concert performances are renowned throughout Europe, Israel, Japan, and the United States. She has performed with the Israel Philharmonic, the Japanese Radio Orchestra NHK, the Moscow Philharmonic, and the Tokyo Metropolitan Orchestra.
Beyond her successful solo and orchestral career, Ms. Yoffe is also an active participant in international chamber music festivals, playing with many famous musicians, such as Gidon Kremer, Yuri Bashmet, Vadim Repin, Michael Vaiman and Mario Brunello.
Dina Yoffe is also an esteemed teacher. She gives masterclasses in France, Germany, Spain, London (Royal Academy of Music) and Salzburg (Mozarteum Summer Academy). She is a guest professor at the Yamaha Masterclasses in Paris, New York, Hamburg and Tokyo, She has also been a jury member of many international piano competitions including in Cleveland (USA), Hamamatsu (Japan), Fryderyk Chopin (Warsaw), Maria Canals (Barcelona) and Ferenc Liszt (Weimar).
Not long ago, an incredibly interesting and paradoxical idea came to me. I'd like to bring to your attention the unification of 2 cycles: The 24 preludes of Chopin & Scriabin. Based on their immense contrast, I have unified them and would like to show how great was the influence of Chopin's work on Scriabin. You will be able to hear incredible similarities and at the same time the great differences in contrasts of tonalities. Both cycles are based on the circle of fifths.
I will be starting with Scriabin's prelude followed by Chopin's prelude in the same key.
In the first half of the concert you will hear preludes 1 – 12 of both composers (Scriabin and then Chopin), and in the second half preludes 13 – 24. – Dina Yoffe
 Programme
| | |
| --- | --- |
| SCRIABIN | 24 Preludes, Op. 11 |
 Intermission
| | |
| --- | --- |
| CHOPIN | 24 Preludes, Op. 28 |
A reception for all will follow the concert