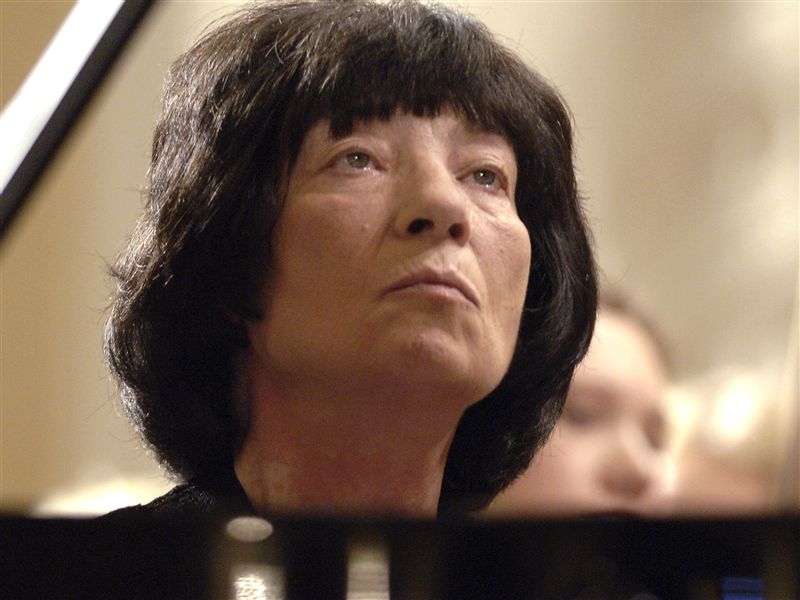 CONCERT 3 – Elisso Virsaladze
Sunday, April 10, 2011 7:30 PM
Vancouver Playhouse
Elisso Virsaladze's Website
"Elisso is an unforgettable Schumannist. Elisso is an artist of great distinction, perhaps the greatest woman pianist of our time. She is a serious, deeply sincere and unpretentious musician…" Sviatoslav Richter
Elisso Virsaladze studied in Moscow with Heinrich Neuhaus and Yakov Zak, gifted teachers who had not only a deep influence on her artistic development, but also immersed her in the renowned tradition of Russian piano pedagogy. Elisso Virzaladze is now a professor at both the Moscow Conservatory and the Musikhochschule in Munich, where she is recognized as an exceptional teacher whose students have won sensational distinction. She regularly serves as a judge for the most prestigious international competitions including the Santander, Geza Anda in Zurich, Rubinstein in Tel Aviv, the Tchaikovsky Richter competitions in Moscow.
Her deepest love is for composers of the late 18th and 19th centuries, especially Mozart, Beethoven, Chopin and Schumann. At the age of twenty-four, she won first prize at the Schumann Competition in Zwickau, and she has been described by the international press as one of the great contemporary interpreters of Schumann. At the same time, she is also well known for her wide repertoire including modern Russian composers. The Soviet Union has honored her with its highest artistic awards. Elisso Virsaladze performs regularly in London, Milan, Rome, Paris, Lisbon, Berlin and Barcelona. She is known for her partnership with the cellist Natalia Gutman with whom she has performed recently in Spain, Belgium, Italy, the United Kingdom (London's Wigmore Hall), the Netherlands and Germany.
During the 2009 season Elisso Virzaladze performed concerti of Brahms, Beethoven and Mozart throughout Europe and Russia and gave numerous recitals and chamber music concerts. Some of her most renowned recordings have been released on the Live Classics label offering a wide perspective into her musical personality.
Programme
| | |
| --- | --- |
| Mozart | Fantasy in C minor KV 475 |
| | Sonata in C minor KV 457 |
| Prokofiev | Sonata Nr. 2 |
Intermission
| | |
| --- | --- |
| Chopin | Polonaise Fantasie in A flat Major, op 61 |
| Schumann | Fantasy in C Major, op. 17 |