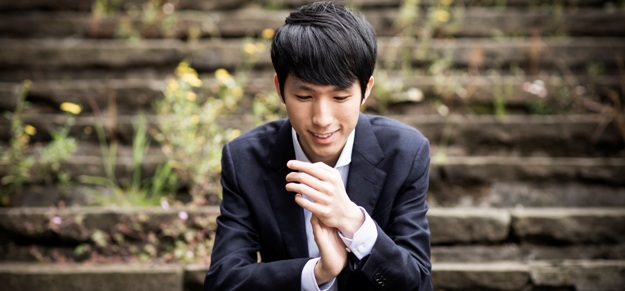 ERIC LU
Artist's website

"Lu seems already to possess something of the magic tough of early Leeds laureates Murray Perahia and Radu Lupu, and is surely one of the most exciting prospects in a long time. A veritable poet of the keyboard."-The Guardian

At 17, Lu made headlines by being a prize-winner at the 2015 International Chopin Competition in Warsaw. In 2018, he went on to win the unanimous first prize at the Leeds International Piano Competition. Since then, Lu has been busily fulfilling demands from all over the musical world for his performances, both as a recitalist and concerto soloist.
In a review of one of Lu's performances, the Guardian writes, "Lu seems already to possess something of the magic touch of early Leeds laureates Murray Perahia and Radu Lupu", and goes on to refer to this young musician as a "veritable poet of the keyboard". In a review of Lu's recording of Chopin's Preludes, the prestigious Gramophone writes, "Lu explores these miniatures with the utmost poetry and sensitivity…It is how Lu fashioned the set as a single whole that is the most inspiring aspect."
His prize-winning performance of Beethoven's Piano Concerto No. 4, released on Warner Classics, is simply astounding, and betrays a depth and maturity far beyond his age.
The Vancouver Chopin Society last presented Eric Lu in 2015 as a very talented young pianist. Come now and experience the mature artistry and musicianship of this young master of the piano.
SCHUMANN: Arabeske< Op. 18
SCHUMANN: Waldszenen, Op. 82
Eintritt (Entry)
Jäger auf der Lauer (Hunters on the lookout)
Einsame Blumen (Lonely Flowers)
Verrufene Stelle (Haunted Place)
Freundliche Landschaft (Friendly Landscape)
Herberge (Wayside Inn)
Vogel als Prophet (Bird as Prophet)
Jagdlied (Hunting Song)
Abschied (Farewell)
BRAHMS Theme and Variations in D minor, op. 18b
INTERMISSION
SCRIABIN: Sonata No. 3
Drammatico
Allegretto
Andante
Presto con fuoco
CHOPIN: Andante spianato et grande polonaise brillante in E-flat major
Schumann's Arabeske is a work of simple yet profound emotions, requiring the musical and interpretative skills of a truly great performer. A simple rippling theme begins the work and is heard three times, alternating with two minor-key passages. One writer comments that with each appearance of the theme, Schumann "obliges us to reassess" it, "as though our view changes when seen through the differing shadows cast by the intervening passages." The composer's Waldszenen is a collection of pieces that underscores the 19th century's fascination with the magic and mystery of the forest. The most striking piece within the set has to be the spooky and almost psychedelic "Vogel als Prophet" (Bird as Prophet).
When Clara Schumann heard the slow movement of Brahms' Sextet in B-flat major, she implored him for a piano transcription of it. Brahms delivered in this present transcription, unpublished until after his death. The composer was reportedly very pleased and proud of this work, where he richly and thoroughly transformed the original theme in six variations.
Composed between 1897 to 1898, Scriabin apparently called his four-movement Sonata No. 3 in F-sharp minor "Gothic", evoking the impression of a ruined castle. Come and hear Lu's interpretation of it and see if you agree with the description!
Chopins' Andante spianato et grande polonaise brillante opens with one of the composer's most beautiful and beguiling melodies, and ends with a brilliant polonaise that challenges the technical and musical abilities of the greatest pianists – surely a rousing conclusion to what will surely be a memorable recital.
"Lu seems already to possess something of the magic tough of early Leeds laureates Murray Perahia and Radu Lupu, and is surely one of the most exciting prospects in a long time. A veritable poet of the keyboard."-The Guardian
"Moments of the utmost mystery nourished the soul, while elsewhere the ear was ravished by Lu's impeccably even, crystalline trills… And how right Lu was to wait just that split second before his first retort to the strings in the central movement, a moment of purest magic." – Seen and Heard International
Delectable Daniel's Chocolates will be served after the concert
Supported by: