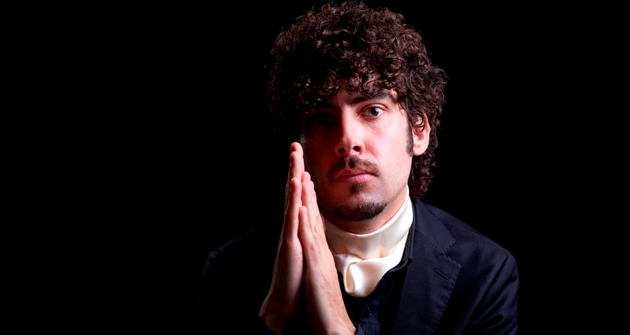 Federico Colli
Sunday, November 21, 2021 at 3 PM
Vancouver Playhouse( Click for directions )
600 Hamilton St, Vancouver
Please click here to read notes for this event. There will be no printed programs at the venue.
For this concert we will only sell 50% of the theatre's capacity.
Proof of vaccination and a piece of valid government photo ID will be required to access the venue.
Please read the safety plan for this event.
If you are purchasing a single ticket, please help us by not choosing a seat that is part of a block of three or four seats. Once you pick a single seat from these blocks, we will no longer be able to sell the rest of the seats in that block.

Federico Colli
Artist's website

"Colli's recent London performance of Rachmaninov's Concerto No. 3 suggested a maverick genius."-International Piano 2018

Undisputed winner of the 2012 Leeds Piano Competition, this young artist has already been praised for his brilliant technique, the colours he brings to his piano playing, and his vibrant and original interpretations. Of a recent performance of Rachmaninoff's 3rd piano concerto, International Piano calls Colli "a maverick genius."
A deeply serious musician and musical thinker, Colli sees his music making as a mission coming from a divine gift. He says, "I want to serve the music, expressing the truth, paying tribute to the beauty." An exclusive recording artist with Chandos Records, his two recordings have both received rave reviews. Of his Scarlatti, La Scena Musica writes, "Scarlatti hasn't been this much fun since Horowitz left it off his encores list."
For Colli, the art of music "is a never-ending creative process, and for this reason it will always be ahead of us, moving infinitely." It is not surprising that his artistry and pianism have often been compared to masters like Lipatti, Michelangeli and Pollini.
We know that this will be a debut you will remember for a long time to come. Come and be swept off your feet by the playing of this young genius.
SCARLATTI: 7 Sonatas
K19 in f minor
K63 in g major
K144 in g major
K430 in d major
K32 in d minor
K431 in g major
K1 in d minor
MOZART: Sonata K333
Allegro
Andante cantabile
Allegretto grazioso
INTERMISSION
SCHUBERT: Fantasy in F minor (transcribed for solo piano by Maria Gringber)
Allegro molto moderato
Largo
Scherzo. Allegro vivace
Finale. Allegro molto moderato
BACH-BUSONI: Chaconne from Partita No. 2 in D minor
Of Scarlatti's 555 sonatas, no two are alike. They range from the pastorale and contemplative to the wildly exciting. It is music that is highly descriptive, but without being programmatic. Although written for the harpsichord, these miniature masterworks transfer remarkably well to the modern piano, its wide palette of colours shining even more brightly and vividly when played by a musician like Colli.
Although written for the solo piano, Mozart's Sonata in B-flat shows the influence of the composer's concerto writing, as there is much interplay between the "solo" piano writing and the contrasting, more orchestral texture in the 1st movement. Even more remarkably, toward the end of the last movement, the composer pauses the music, and gives the soloist the spotlight with a cadenza. before the "orchestra" returns to finish the work with a flourish.
Originally written for piano, four hands, Schubert's Fantasy in F minor is, without a doubt, an ingenious piece of chamber music writing. Beginning and ending with one of Schubert's most haunting melodies, the fantasy takes listeners through a musical journey of many shifting moods and colours. This recital will give us a rare opportunity to hear this work transcribed for a single pianist.
Busoni wrote so many transcriptions of works by J. S. Bach that he was once introduced at a party as "Mr. Bach-Busoni". His transcription of Bach's monumental Chaconne for solo violin transforms the austere colours of the original into a highly dramatic and romantic masterpiece of piano writing.
"Colli's recent London performance of Rachmaninov's Concerto No. 3 suggested a maverick genius."-International Piano 2018
La Scena Musica writes, "Scarlatti hasn't been this much fun since Horowitz left it off his encores list."
Delectable Daniel's Chocolates will be served after the concert
Supported by: