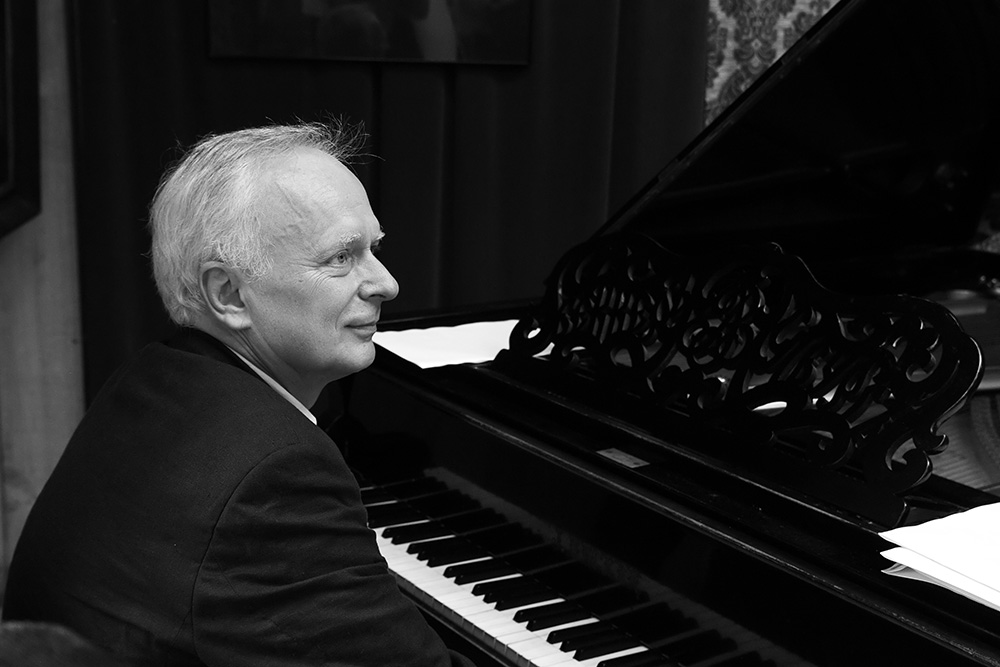 Concert II – Janusz Olejniczak
Co-presentation with Early Music Vancouver


Friday, February 2, 2018 at 7:30 PM

Saturday, February 3, 2018 at 7:30 PM

Christ Church Cathedral( Click for directions )
"Chopin's music fascinates Janusz Olejniczak with what he describes as its ethereal, elusive character: 'It's like a bird of paradise, which keeps slipping through your hands. Only occasionally do you succeed in grasping its essence, in getting close to it. In Chopin's music, there is something that makes you want to play the same passage differently every time, …My humility with regard to Chopin prevents me from adopting a single version, from stating that a particular passage is absolutely the best in that very form. So I continually have to try again"– Stanislaw Dybowski
The keyboard music of the early Romantics, such as Chopin and Schumann—and even of still later composers was written for pianos substantially different from the ubiquitous modern Steinway. This two-concert collaboration with Early Music Society is an exploration of how the use of period instruments can have a dramatic effect on an artist's interpretive choices. Award winning Polish pianist, Janusz Olejniczak, will play two recitals with different programmes. For each concert, he will play the first half on a historical instrument and second half on a modern Steinway.
He was the youngest award winner at the 8th International Fryderyk Chopin Piano Competition in 1970, and award winner at the International Alfredo Casella Competition in Naples.
Janusz Olejniczak performs in the leading concerts halls in Europe, the Americas, Asia and Australia, including the Berlin Philharmonic, Teatro Colón in Buenos Aires, Salle Pleyel in Paris, Tokyo's Suntory Hall, Washington's Lincoln Center, Tonhalle in Düsseldorf, Concertgebouw in Amsterdam. For four years he has taught at the Music Academy in Cracow. He has also sat on numerous piano competitions juries and given masterclasses in Canada, Japan, Colombia, and at the Mozart Academy in Salzburg.
His repertoire centers on the works of Chopin, Bach, Schubert, Schumann and Liszt. His interpretations of twentieth-century works have also been acclaimed, including Debussy, Ravel (Concerto in G), Prokofiev, Messiaen, Henryk Mikołaj Górecki, Wojciech Kilar, and Witold Lutosławski. He is an avid chamber musician, and has appeared with orchestras conducted by Witold Rowicki, Andrzej Markowski, Kazimierz Kord, Antoni Wit, Jerzy Maksymiuk, Tadeusz Strugała, Charles Dutoit, Andrzej Borejko, Grzegorz Nowak, Jacek Kaspszyk, Marek Pijarowski, Marek Moś and others. In recent years he has also given concerts and recorded on historical instruments (Érard and Pleyel), often collaborating with the Orchestra of the 18th Century of Frans Brüggen. At the Chopin and His Europe Festival in Warsaw, he appeared with the Orchestre des Champs-Élysées under the direction of Philippe Herreweghe.
Apart from an extensive Chopin repertoire (for Polskie Nagrania, Tonpress, Muza, Wifon, Opus 111, Camerata, Sony Classical, Selene, CD Accord, Bearton), Janusz Olejniczak has also recorded works by Rameau, Mozart, Schubert, Prokofiev, Kilar, Górecki and Lutosławski. In recognition of his outstanding musical achievements he has received eight Fryderyk Awards of the Polish recording industry, as well as the Officer's Cross of the Polonia Restituta (2000) and the Gloria Artis Gold Medal (2005).
Janusz Olejniczak has also recorded best-selling soundtracks for two famous movies: Roman Polański's The Pianist and Andrzej Żuławski's La note bleue, additionally appearing in the latter as an actor playing role of Frederick Chopin.
Programme
First half on a historical instrument, the Broadwood piano
Second half on a modern Steinway piano
Friday, Programme I
Intermission
| | |
| --- | --- |
| CHOPIN | 4 Mazurkas |
| | Scherzo No. 1 in B minor, Op. 20 |
| | Sonata No. 3 in B minor, Op. 58 |
Saturday, Programme II
| | |
| --- | --- |
| CHOPIN, SCHUBERT, SCHUMANN | Selected pieces |
Intermission
| | |
| --- | --- |
| CHOPIN | Nocturne c-minor, Op. 48 No.1 |
| | Ballade No. 1 in G minor, Op. 23 |
| | Two waltzes |
| | Three mazurkas |
| | Polonaise in A-flat major, Op. 53 |
A reception for all will follow the concert on Saturday
Supported by: