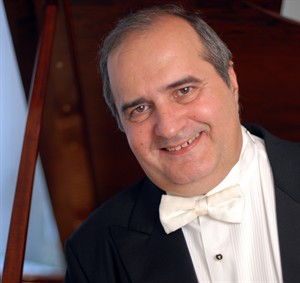 CONCERT 1 – Jorge Luis Prats
Friday, October 30, 2015 at 7:30 PM
Vancouver Playhouse
"Prats is a rare talent, not only because of his extraordinary life story, but because of his extraordinary gifts. The piano, he said, is merely the tool he uses to create music. The music he creates is stunning — it enthralls and amazes, while simultaneously stimulating the mind. Here is a prodigious talent whose experiences in Cuba and abroad are conveyed in each note he plays. He is now achieving the recognition that should have been his all along." -Adam Parker
Hailed as a long-lost virtuoso in the grand tradition, Cuban pianist Jorge Luis Prats' 2007 concert at the Broward Center for the Performing Arts under the auspices of the Miami International Piano Festival was recorded on the VAI label. It was the release of this live performance that reawakened great interest in his career and resulted in invitations to perform at the Verbier Festival, in Amsterdam's Concertgebouw for four consecutive years to overwhelming response.
"A model of balance and imagination" was Steve Smith's verdict in his review of Mr. Cohen's Town Hall recital in The New York Times last season.
At the age of 21 Prats won the Grand Prix at the prestigious "Marguerite Long-Jacques Thibaud" piano competition in Paris (1977), also receiving special prizes for the best interpretation of Maurice Ravel and André Jolivet. He began performing widely, and even made a recital LP for Deutsche Grammophon. However, visa restrictions meant that big opportunities in the West were limited and the young Cuban chose to stay with his family over a career abroad. For more than 30 years, Jorge Luis Prats effectively disappeared from the international piano scene. His recent relocation to the U.S. has allowed that career to once again flourish.
Born in Cuba, Prats studied at the National School of Arts with Margot Rojas and later he was awarded a scholarship to study under Rudolf Kerer in Moscow. He continued his higher piano education in Paris in Vienna with Magda Tagliaferro and Paul Badura Skoda. He has recorded for a number of major labels: Pathé Marconi (EMI France), Deutsche Grammophon, ASV, IMP, and Musical Heritage.
 Programme
| | |
| --- | --- |
| VILLA-LOBOS | Bachianas Brasileiras #4 |
| ALBENIZ | Iberia |
| | Malaga |
| | Jerez |
| | El Polo |
| | Triana |
| | El Albaicin |
| | Lava Pies |
 Intermission
| | |
| --- | --- |
| CERVANTES | Cuban Dances Suite |
| CHOPIN | Fantasie in F minor, Op. 49 |
| | Nocturne in E major, Op. 62 No 2 |
| | Andante Spianatto et Grande Polonaise Brillante, Op. 22 |
| RAVEL | La Valse |
A reception for all will follow the concert