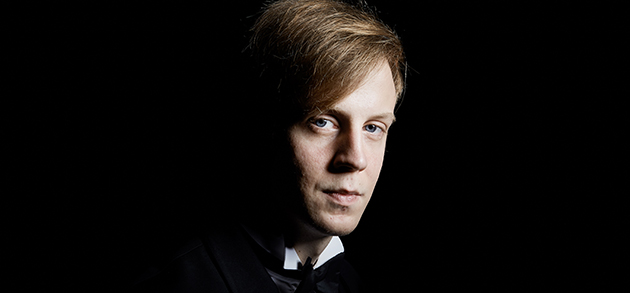 TYMOTEUSZ BIES
The winner of 2018 Szymanowski International Music Competition.
Tuesday, September 21, 2021 | 7:30 PM
Vancouver Playhouse( Click for directions )
600 Hamilton St, Vancouver
Please click here to read notes for this event. There will be no printed programs at the venue.
For this concert we will only sell 50% of the theatre's capacity.
Proof of vaccination and a piece of valid government photo ID will be required to access the venue.
Please read the safety plan for this event.

TYMOTEUSZ BIES
Born on June 9th, 1995, Tymoteusz Bies is a graduate of the Karol Szymanowski Academy of Music in Katowice, where he studied under the guidance of Professor Zbigniew Raubo; he currently is teaching in the Piano Department of his Alma Mater.
He is a laureate of a number of prestigious piano competitions, including the National Fryderyk Chopin Piano Competition, Friuli Venezia Giulia Piano Competition and the Inaugural Karol Szymanowski International Music Competition. He has performed with numerous orchestras, including the Polish Radio Orchestra, the National Polish Radio Symphony Orchestra, and most of the polish philharmonic orchestras. He has collaborated with some of today's distinguished conductors, including Maestro Juozas Domarkas, Maestro Lawrence Foster, Maestro Lionel Bringuier and others.
His has performed solo recitals at the Chopin Festival in Duszniki-Zdrój, Chopin and His Europe Festival, as well as in Austria, Croatia, France, Germany, Italy, Lithuania, Russia, Slovakia and Slovenia. He has been the recipient of multiple scholarships, including scholarships funded by Krystian Zimerman, Young Poland Scholarship, the Piotr Kler Foundation as well as the Ministry of Culture and National Heritage of the Republic of Poland.
He has already released two studio albums, containing piano works of Mozart, Schubert, Chopin and Szymanowski. He is currently working on his newest album, which will contain works of Karol Szymanowski and Witold Lutosławski; on this latter album he will be accompanied by Polish Radio National Symphony Orchestra.
In 2019 he received the prestigious "Primus inter pares" title for best graduate of the year, from the Karol Szymanowski Academy of Music in Katowice.
In the artistic season of 2020/2021, Tymoteusz Bies is artist-in-residence at the National Polish Radio Symphony Orchestra in Katowice.
Tymoteusz Bies is represented by the Ludwig van Beethoven Association.
CHOPIN: Lento con gran espressione in C-sharp minor WN 47
CHOPIN: 4 Mazurkas op. 17
Mazurka in B-flat major Op. 17 No. 1
Mazurka in E minor Op. 17 No. 2
Mazurka A-flat major Op. 17 No. 3
Mazurka in A minor Op. 17 No. 4
CHOPIN: Preludes op. 28 (1-10)
Prelude in C major No. 1
Prelude in A minor No. 2
Prelude in G major No. 3
Prelude in E minor No. 4
Prelude in D major No. 5
Prelude in B minor No. 6
Prelude in A major No. 7
Prelude in F-sharp minor No. 8
Prelude in E major No. 9
Prelude in C-sharp minor No. 10
CHOPIN: Polonaise-Fantaisie in A-flat major Op. 61
INTERMISSION
SZYMANOWSKI: Two Mazurkas Op. 62
Allegretto grazioso
Moderato
SZYMANOWSKI: Masques Op. 34
Scheherazade
Tantris the Buffoon
Don Juan's Serenade
For his Vancouver debut, Tymoteusz Bies has chosen a wonderfully varied programme of two great Polish composers from two different eras.
The set of early Mazurkas (Op. 17) by Chopin contains four of these quintessentially Polish dances with vastly different character. The last Mazurka of the set, in A minor, is arguably the most tragic music written by the composer. The set of 24 Preludes (Op. 28) contains some of Chopin's most intimate and personal musical thoughts. Bies has chosen to perform the first ten of the set, which includes some of Chopin's most well-known music – the heartbreakingly tragic E minor and B minor, the utterly charming A major, and the treacherously difficult and stormy F-sharp minor. A towering masterpiece from Chopin's last years, the Polonaise-Fantasie (Op. 61) can surely be considered the composer's most profound musical utterance. In this work, we hear not only the summation of his compositional life, but also a sublimation of his love of Poland, as well as some of his most startlingly original and forward-looking music.
In the words of Arthur Rubinstein, an intimate friend and early champion of Karol Szymanowski, upon first playing his music, "We knew we were discovering a great Polish composer! His style owed much to Chopin…but there was already the stamp of a powerful, original personality to be felt in the line of his melody and in his daring and original modulations."
It seems entirely fitting that the first prize winner of the Inaugural Karol Szymanowski International Music Competition to include in his programme a selection of works by this great 20th century Polish composer. Bies will play for us, appropriately, two Mazurkas (Op. 62) by Szymanowski, as well as the composer's masterful Masques (Op. 34), composed in 1914, drawing inspiration from three major myths of the Western imagination – Scheherazade, Tristan and Don Juan.
Come and find out why more and more pianists are including the music of Karol Szymanowski in their recital programmes.
Supported by: