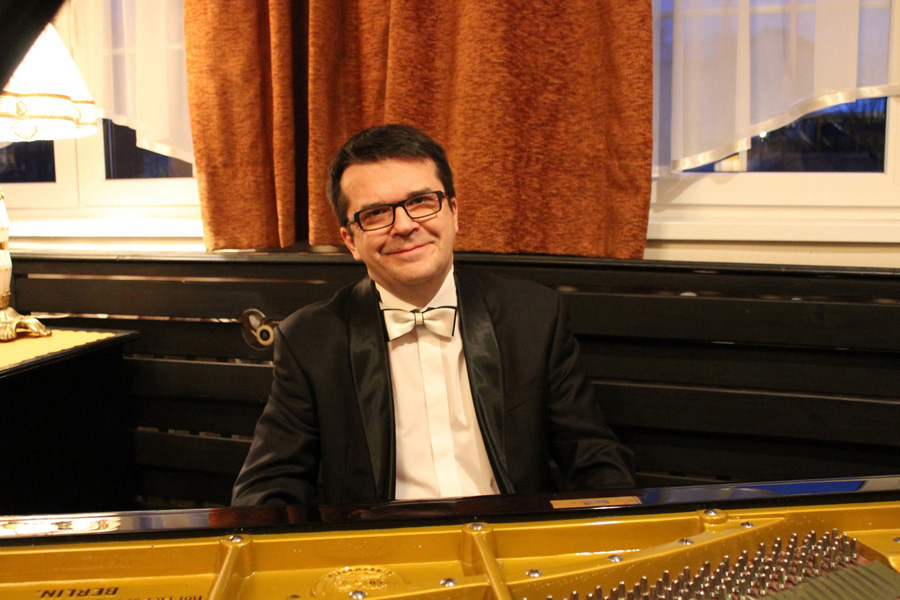 CONCERT 5 – Zbigniew Raubo
Sunday, May 16, 2010 7:30 PM at Playhouse
Zbigniew Raubo began his musical education at the age of five and made his orchestral debut at eleven. He was subsequently admitted as a second-year student at the Music Academy in Katowice, in the class of Professor Andrzej Jasinski. He won a diploma with distinction in 1993. Upon graduation he became Professor Jasinski's assistant. In 2002 he gained the tittle of assistant professor, in 2004- professor.
Zbigniew Raubo has held several grants from the Chopin Society and the Ministry of Culture and Art. At the age of 17 he won two awards at the Karol Szymanowski National Competition in Lodz. He is a prizewinner of two prestigious international piano competitions, in Bolzano (Italy,1991) and Utrecht (Holland, 1992). His repertoire spans music from Bach to contemporary composers including over thirty pieces for piano and orchestra. He has appeared as a soloist in orchestral concerts and has given recitals in many Polish towns and abroad (Germany, Italy, France, Marocco, Slovakia, Russia, the Czech Republic and Austria).
His discography includes CDs for the Japanese branches of Deutsche Grammophon and RCA (works with orchestra, with Sinfonia Varsovia and Capella Cracoviensis) and numerous CDs of Chopin's solo piano music. In 1996 his Chopin recital on the DUX label won a nomination for the "Fryderyk" Award of the Phonographic Academy, which a year later invited Zbigniew Raubo to become a member. In 1997 he recorded "Horn Sonatas" (with Zbigniew Zuk) for Zuk-Record. Two years later he recorded a selection of Schubert's sonatas. He has also made recordings for radio and television. He has participated in major music festivals in Poland, including those in Duszniki Zdroj, Szczecin, Opole, Slupsk, Wroclaw and Tarnow, as well as the Internationales Bodensee- Festival (Germany). He has also developed a fine career in chamber music, appearing with the violinist Bartlomiej Niziol and the Silesian Quartet.
He is a co-organizer and deputy president of the Katowice-based Silesian Music Society and chairman of the Katowice Music Academy branch of the Karol Szymanowski Music Society in Zakopane. Despite his young age, Zbigniew Raubo has some notable achievements as a teacher to his credit. His students have won prizes at national and international piano competitions.
Programme
Ballade No. 4 in F minor, Op.52
Ballade No. 3 in A-flat major, Op.47
Scherzo No. 3 in C-sharp minor, Op. 39
Scherzo No. 4 in E major – Op. 54
Intermission
Four Mazurkas, Op. 41
Sonata No. 2 in B flat minor, Op. 35