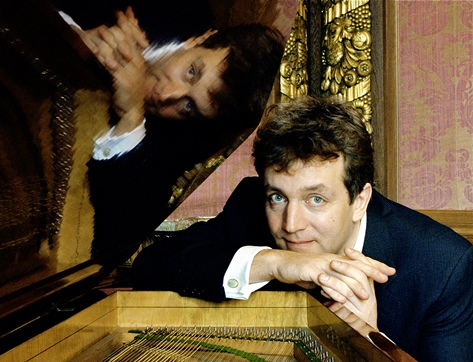 Special Event – Tobias Koch
Co-presentation with Early Music Vancouver

Friday, February 22, 2019 at 7:30 pm (Pre-concert talk 6:45pm)
Saturday, February 23, 2019 at 7:30 pm (Pre-concert talk 6:45pm)
Lost Sound – documentary (64′)
Friday, February 22, 2019 at 5:30 pm

Christ Church Cathedral( Click for directions )
Buy tickets, Friday, Feb 22 (Sold Out)
Buy tickets, Saturday, Feb 23
Tobias Koch's Web Site

Powerhouse of the period piano movement, Warsaw's Chopin Institute under the artistic direction of Stanisław Leszczyn´ski continues to venture where no recordings have gone before. Even by its own high standards, this new release featuring the German pianist Tobias Koch offers something uncommonly fresh and entrancing, a journey through the world of Polish character pieces – principally polonaises and mazurkas – from before, during and even after Chopin's time." – John Allison
After our highly successful collaboration with Early Music Vancouver in the 2017-2018 season, we are happy to work with our friends at EMV to bring you another remarkable artist in a pair of recitals on a period piano.
To probe the mysteries of sound with open-mindedness, versatility and with a sense of joy for discovery is the musical credo of Tobias Koch. Right from the beginnings of his musical career, Koch has been fascinated by the expressive potential of period keyboard instruments; he plays the harpsichord, clavichord, tangent piano, fortepiano, orphica, piano-pédalier, organ, and romantic grand piano in unorthodox and spirited performances — "with disarming spontaneity," as a large German weekly put it. Koch chooses the most suitable instrument after extensive musicological research and performance practice studies, always leading to new results.
For years, he has been considered one of the leading interpreters in the field of romantic performance practice, and particularly of the work of Robert Schumann. The German Radio MDR Figaro wrote: "Inspired and inspiring right from the beginning. Tobias Koch plays Robert Schumann's music the way it should be played: revolutionary, romantic, with technical brilliance, emotional but without any hint of sappiness or pretence. Koch's playing conjures up images that appear just as quickly as they fade away. Koch's playing is infectious, every moment is an adventure."
Koch's comprehensive musical career as a soloist, chamber musician and Lied accompanist has taken him to music festivals throughout Europe including the Schleswig-Holstein Music Festival, Ludwigsburger Schlossfestspiele, Verbier Festival, the Warsaw Chopin Festival, Rheingau Music Festival, Beethovenfest Bonn, the Schumann Festivals in Düsseldorf, Bonn, Leipzig, and Zwickau, and the Mendelssohn Days at the Gewandhaus Leipzig.
He has been featured in numerous productions for radio and television and recorded over 25 CDs with works by Mozart, Beethoven, Burgmüller, Mendelssohn, Schumann, Chopin, Liszt, Wagner, and Brahms.
For his Vancouver appearance, Koch will present two different programmes. The first recital will be a recreation of Chopin's recital in Edinburgh on October 4, 1848. Just as Chopin did in 1848, Tobias Koch will also be performing on a beautifully- restored Broadwood grand piano in Vancouver.
In 2013 Koch made his remarkable debut at the Warsaw festival 'Chopin and his Europe" with a passionate and sensitive recital composed around Polish music of the 19th century. This Polish Romantic music will be presented by Koch in his second recital where we will hear composers such as Szymanowska, Elsner (Chopin's teacher), Friedman, Zaluski, Kurpinski, and Mikuli (Chopin's student) and of course Chopin.
Come and experience the unique sonorities of a period piano, under the hands of one of its most eloquent exponents.


Friday Recital Chopin's last concert in Edinburgh 1848 (click here to read more)
Programme
| | |
| --- | --- |
| CHOPIN | Mazurka in A-flat major, Op. 7 No. 4 |
| | Impromptu No. 1 in A flat major, Op. 29 |
| | 3 Etudes from Op. 25 |
| | in A-flat major No. 1 |
| | in F minor No. 2 |
| | in C-sharp minor No. 7 |
| | 2 Nocturnes Op. 27 |
| | in C-sharp minor No. 1 |
| | in D-flat major No. 2 |
| | Berceuse in D-flat major, Op. 57 |
| | Grande Valse Brillante in E-flat major, Op. 18 |
Intermission
| | |
| --- | --- |
| CHOPIN | Prelude in E major, Op. 28 No. 9 |
| | Nocturne in B major, Op. 62 No. 1 |
| | Prélude in C-sharp minor, Op.45 |
| | Ballade No. 3 in A-flat major, Op. 47 |
| | 3 Mazurkas from Op. 7 |
| | in B-flat major No. 1 |
| | in A minor No. 2 |
| | in F minor No. 3 |
| | 2 Mazurkas Op. 59 |
| | in A minor No. 1 |
| | in F-sharp minor No. 3 |
| | 3 Waltzes Op. 64 |
| | in D-flat major No. 1 |
| | in C-sharp minor No. 2 |
| | in A-flat major No. 3 |
Saturday Recital The Polish Romantics (click here to read more)
| | |
| --- | --- |
| MICHAL KLEOFAS OGINSKI (1765-1833) | Polonaise in A Minor, Farewell to the homeland (1794) |
| KAROL KURPINSKI (1785-1857) | Polonaise in D minor (1812) |
| | Polonaise in C major (1818) |
| MARIA SZYMANOWSKA (1789-1831) | Polonaise in F minor (1820) |
| JOZEF ELSNER (1769-1854) | Rondo à la Mazurka in C major (1803) |
| FRYDERYK cHOPIN (1810-1849) | Polonaise in B flat major KK IVa-1 (1817) |
| JOZEF KROGULSKI (1815-1842) | Mazurka in E minor "a la Chopin" (1836) |
| KAROL LIPINSKI (1790-1861) | Mazurka in E-flat minor Op. Posth (1862) |
| EDWARD WOLFF (1816-1880) | Hommage à Chopin: Rêverie-Nocturne Op. 169 (1852) |
| IGNACY FELIKS DOBRZYNSKI (1807-1867) | Mazurka in A minor Op. 37 No. 2 (1840) |
| FRYDERYK CHOPIN (1810-1849) | Mazurka in C-sharp minor, Op. 50 No. 3 (1842) |
Intermission
| | |
| --- | --- |
| KAROL MIKULI (1819-1897) | Mazurka in F minor Op. 4 (1860) |
| IGNACY FRIEDMAN (1882-1948) | Mazurka in C minor Op. 49 No. 2 (1912) |
| RAOUL KOCZALSKI (1885-1948) | Mazurka in C minor Op. 60 (1898) |
| IGNACY JAN PADEREWSKI (1860-1941) | Mazurka in A minor Op. 9 No. 2 (1882) |
| | Krakowiak fantastyczny in B major, Op. 14 No. 6 |
| FRYDERYK CHOPIN (1810-1849) | Polonaise in F-sharp minor Op. 44 (1841) |